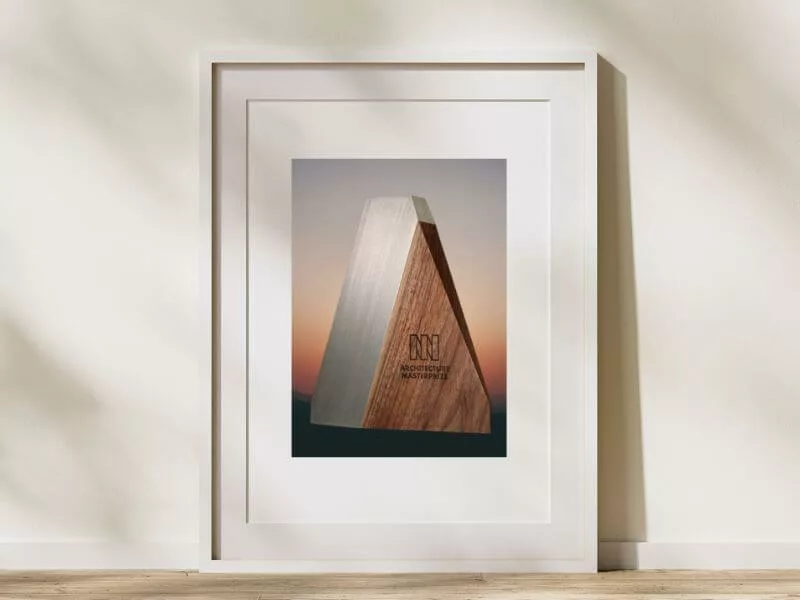 7 Tips for Standout Entries for Architectural Awards
April 25, 2023
Winning architectural awards is an excellent way to gain recognition for your work, showcase your talents, and establish yourself as a leading professional in the industry. Whether you're an individual architect, an architecture firm, an interior designer, or a student, architectural awards can elevate your profile and help you attract new clients. 
To help you get started, it's a good idea to research different architectural awards and find the ones that are best suited for your project. With numerous architectural awards available, including one of the industry's most respected Architecture MasterPrize, the renowned Pritzker Architecture Prize, and the Royal Gold Medal, the possibilities are endless.
However, crafting an award-winning entry can be a daunting task, you need more than just good images and a decent project description, requiring you to present your project's unique features and showcase it in the best possible light. Fear not, though, as we have your back. In this article, we'll provide you with some tips and tricks on how to write a winning entry for architectural awards that will impress the judges and increase your chances of winning!

1.Understand the Criteria of Architectural Awards
Before you start writing your entry, it's essential to understand the criteria of the award you're applying for. Each award has its own set of rules, guidelines, and judging criteria that you need to follow. Make sure you read the guidelines carefully and understand what the judges are looking for in a winning entry.

2. Showcase the Unique Features of Your Project
One of the most important things to do in a winning entry is to showcase the unique features of your project. What sets your project apart from the others? What innovative techniques or design elements did you use? Highlight these features in your entry and explain how they contribute to the overall success of the project.
3. Provide High-Quality Visuals
In addition to a well-written entry, you should also include high-quality visuals of your project. This can include photographs, renderings, floor plans, or sketches. Make sure the visuals are of high quality and showcase the best features of your project. You want the judges to be impressed by the visuals as well as the written content.
4. Tell a Compelling Story
Another key element of a winning entry is a compelling story. Your entry should tell the story of your project, from conception to completion. Explain the challenges you faced, the design decisions you made, and the impact your project has had on the community. A well-told story can make your entry stand out and leave a lasting impression on the judges.
5. Follow the Guidelines and Meet the Deadline
Finally, it's important to follow the guidelines of the award and meet the deadline. Make sure you submit your entry on time and in the required format. Pay attention to the word count, formatting, and any other requirements specified in the guidelines. Failure to follow the guidelines could result in your entry being disqualified, no matter how impressive it is.
6. Focus on the Impact of the Project
In addition to showcasing the unique features of your project, it's important to focus on its impact. What difference has your project made in the community? How has it improved the lives of its users? By demonstrating the positive impact of your project, you can show the judges that it is not only innovative and well-designed but also socially responsible.
7. Get Feedback from Peers and Colleagues
Before submitting your entry, it's a good idea to get feedback from your peers and colleagues. Ask them to review your entry and provide constructive criticism. This can help you identify areas for improvement and make your entry even stronger. It can also help you catch any errors or inconsistencies in your entry before you submit it.
Writing a winning entry for architectural awards requires a combination of creativity, technical skills, and attention to detail. By understanding the criteria of the award, showcasing the unique features of your project, providing high-quality visuals, telling a compelling story, and following the guidelines, you can increase your chances of winning and establish yourself as an award-winning architect or designer. Check out some of the award winning architects and their projects on the Architecture MasterPrize website, and get inspired to create your own winning entry.
About Architeture MasterPrize (AMP)
The mission of the AMP is to advance the appreciation of quality architectural design worldwide. Celebrating creativity and innovation in the fields of architecture, landscape architecture, interior design, product design and architectural photography, the prize is open to submissions worldwide, accepting entries from architects all around the globe. 
Winners are selected by the esteemed jury of architects and leaders in the architecture world and will receive the AMP trophy and extensive publicity showcasing their designs to a worldwide audience, plus more.
architectureprize.com