Photography: Oki Hiroyuki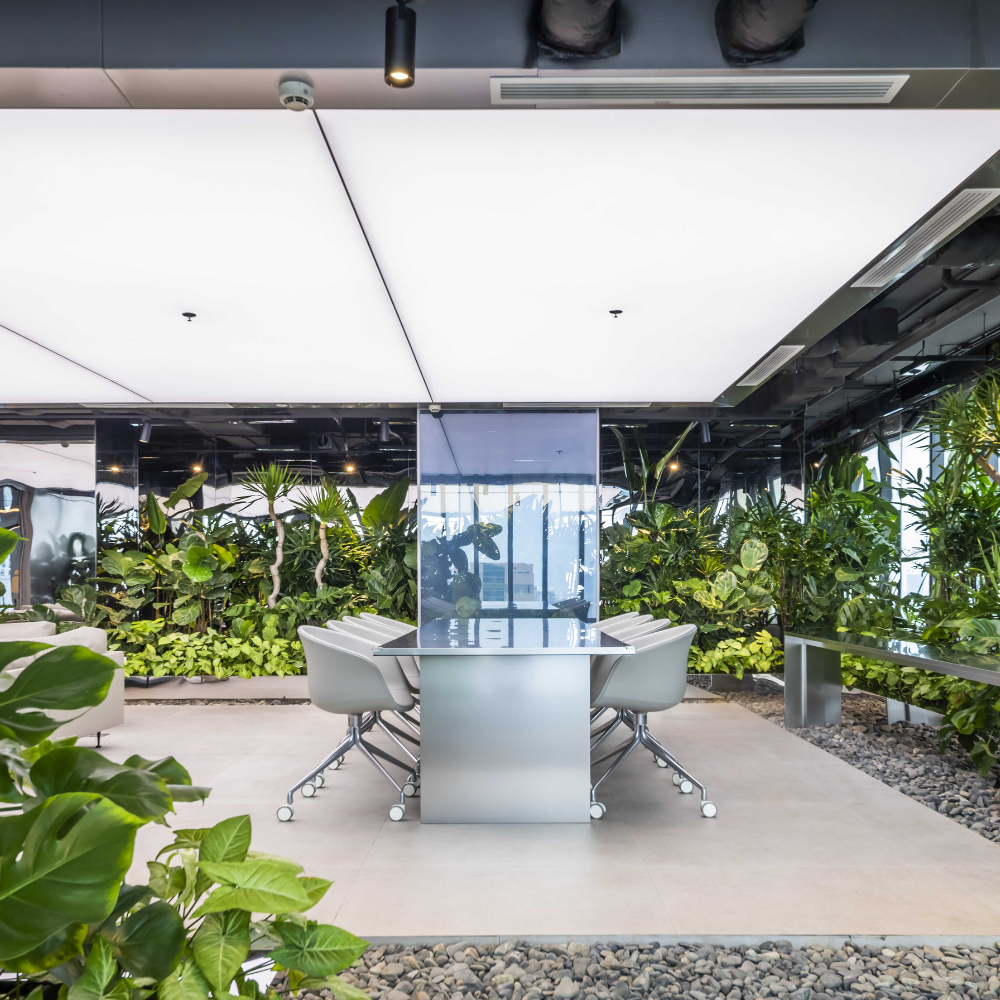 8 Office Interiors That Will Inspire Productivity
February 1, 2023
These 8 creative office interiors/work environments provide a blend of comfort and style that is sure to enhance productivity and motivation. Rather than adhering to the standard, sterile office design, these spaces showcase how incorporating the right elements can result in inviting environments where employees can comfortably relax and interact.
This office features a botanical garden-like reception area, with cool metal tones for elegance and simplicity. The garden lobby provides a refreshing atmosphere, while the living room and meeting room are located in private garden courtyards, offering shade and reducing glare.
Located in the repurposed St James Power Station, the 4-story high Turbine Hall serves as a circulation hub for agile work and community learning. The campus-like masterplan balances existing heritage with new architectural pavilions for a human-centric workplace that supports people and new ideas.
ZOZO operates the fashion shopping site "ZOZOTOWN" and prioritizes sales from external apparel makers. They aim to create a city-like office environment, allowing for a hybrid "new way of working" where employees come to the office twice a week and work remotely the rest of the time.
Nike Icon Studios LA is the flagship studio housing the company's Global Brand Imaging operations with a diverse range of photography and imaging capacity, including print, editorial, product, imagery, video, post-production, and editing, all under one roof. LOHA's design combines art and science and is arranged in a highly efficient, in-house process within an existing 42k sq ft linear building.
Contempo is an architecture and interior firm in Hong Kong with a vibrant office space. The former industrial building was transformed into a hybrid work and social environment to foster a sense of community. The open work areas blend with various social spaces, featuring warm oak, galvanized steel, and calming colors.
Due to the pandemic, the way people interact with each other and their work has undergone fundamental changes. To align with the new model of work, LESS has designed office layouts that have been revamped and rearranged. This involves moving towards open floor plans that support communication, sharing, and teamwork.
The new office in Boston for Publicis Groupe aims to inspire and motivate its 1,500 employees through a dynamic and flexible workplace designed for collaboration. Elkus Manfredi Architects guided employees in co-creating the office, with work neighborhoods offering a choice of environments and features chosen through collaboration between employees and designers. Cafés, terraces, and touch-down seating nooks promote movement and encourage creative interactions.
The office takes up an entire floor of a building with 360-degree views and good lighting. The designer explores the limits of structure and modeling with a bold, curved design that reopens the city skyline interface.
About Architecture MasterPrize(AMP) 
The mission of the AMP is to advance the appreciation of quality architectural design worldwide. Celebrating creativity and innovation in the fields of architecture, landscape architecture, interior design, product design and architectural photography, the prize is open to submissions worldwide, accepting entries from architects all around the globe. 
Winners are selected by the esteemed jury of architects and leaders in the architecture world and will receive the AMP trophy and extensive publicity showcasing their designs to a worldwide audience, plus more.